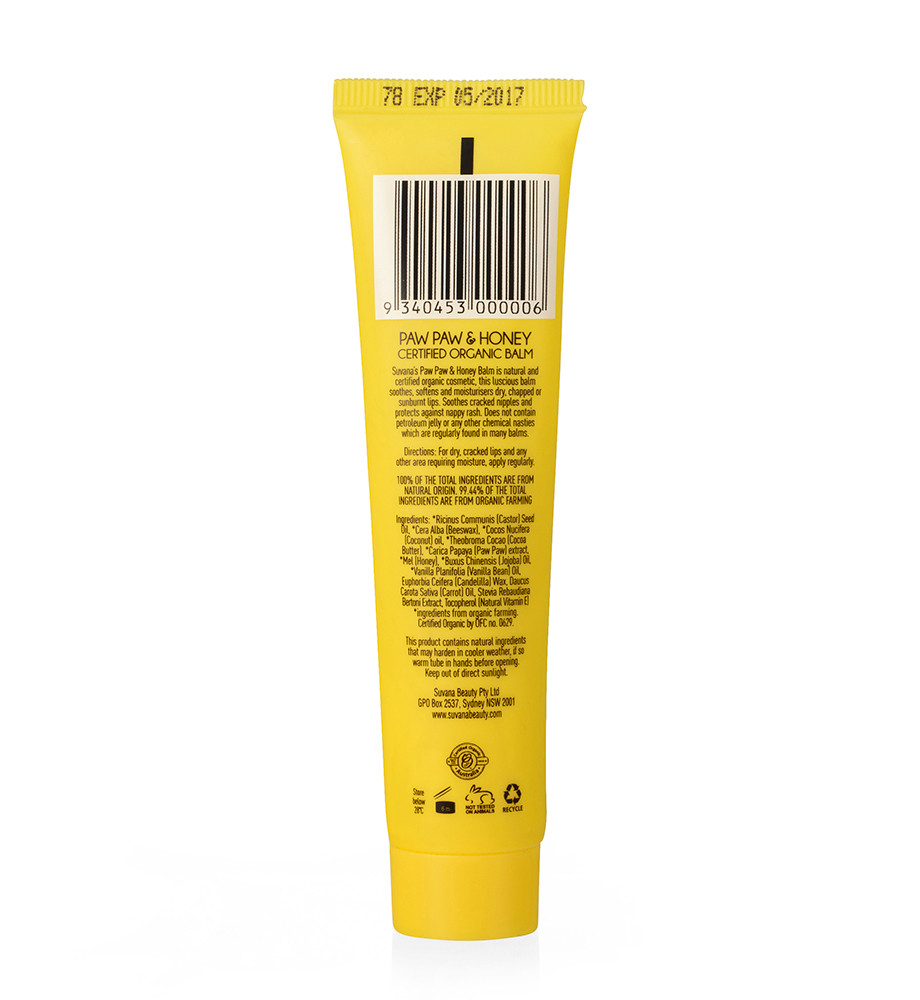 Suvana Organic Pawpaw & Honey Balm 25g
In stock
Suvana Organic Pawpaw and Honey Balm is a real wonder balm when it comes to both healing and moisturising. In addition to the miracle fruit known as Pawpaw and the antiseptic benefits of honey, the balm is made up of only pure ingredients including coconut oil, vanilla bean oil, cocoa butter and vitamin E.
You can use this balm to treat:
·         Chapped or windblown lips
·         Minor cuts and abrasions
·         Dry or irritated skin
·         Insect bites
·         Nappy rash
·         Cracked nipples
·         Pimples or other skin blemishes
This organic balm is also known for what it doesn't contain. There are:
·         No parabens or sulphates.
·         No mineral oil or petroleum by-product.
·         No harmful chemicals or preservatives.
·         No animal derivatives (and is not tested on animals).
·         No artificial fragrances or colours.
So if you're looking for an honest and organic product that's good for you, inside and out, then this Pawpaw and Honey Balm is the perfect choice.
25g
Made in Australia
100% of the total ingredients are from natural origin. 99.44% of the total ingredients are from organic farming. No Petroleum.
*Ricinus Communis (Castor) Seed Oil, *Cera Alba (Beewax), *Cocos Nucifera (Coconut) Oil, *Theobroma Cocao (Cocoa Butter), *Caricab Papaya (Paw Paw) exact, *Mel (Honey), *Buxus Chinensis (Jojoba) Oil, *Vanilla Planifolia (Vanilla Bean) Oil, Euphorbia Ceifera (Candelilla) Wax, Daucus Carota Sativa (Carrot) Oil, Stevia Rebaudiana Bertoni Extract, Tocopherol (Natural Vitamin E)
*ingredients from organic farming